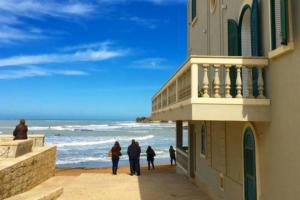 Sicily is a land full of secret charm. The beauty of nature intersects with the artistic works made by man over the centuries, becoming a mythical place in our collective imagination.
The charming city of Palermo, the ancient city of Agrigento and the enchanting Egadi Islands are just some of the stops you can take for a vacation full of art, nature, and dreamy beaches.
You can discover the UNESCO sites of Sicily, such as the baroque cities of the Valle di Noto and the Parco Archeologico della Valle dei Templi, or opt for a vacation dedicated only to the beach, sea, and relaxation, perhaps choosing a vacation home in Sicily on the beach.
To organize a unique stay, Scent of Sicily offers you various accommodation solutions—exclusive vacation homes, some of which are located just a stone's throw from the most beautiful beaches of Trinacria.
There are many advantages to choosing a private villa in Sicily with a sea view, as we will see below, but for many, it can be difficult to choose the right home, especially if you are travelling in a group.

This is why we, at Scent of Sicily, have compiled 5 tips to help you make this decision – 5 things to take into consideration to find the ideal villa that combines comfort and exclusivity:
---
Why you should choose a vacation home in Sicily on the beach?
A vacation home gives the guest their own space and privacy.
You don't have to share common areas with strangers or staff who arrive, even if not requested. There are no restrictive hours to access open spaces such as the garden, terrace, swimming pool, or solarium.
Everything that comes with the vacation home is for exclusive use for you and your family or group of friends, to be used at will, whenever and however you want. This guarantees a vacation in full autonomy and privacy, without having to stress about the time and a dress code.
Furthermore, those who choose this type of accommodation are able to get in touch with the essence of the location, which is far from the standardization of tourist hotels.
1. Which location you should choose for a vacation in Sicily
The choice of location plays a prevalent role in organizing your vacation, especially concerning the presence of particular events you would like to attend or places to visit.
For example, San Vito Lo Capo is located in western Sicily, famous not only for its 3-kilometer long sandy beach but also for the Cous Cous Fest. This event celebrates cultural diversity through a journey of flavors and dishes prepared by renowned chefs: the right event for those who want to savor Sicilian cuisine at its best!
Northern Sicily is perfect for those who want to get to know Palermo's ancient and noble soul, following the splendid Arab-Norman route to Cefalù and Monreale. We can't forget about the possibility of enjoying some splendid beaches such as Mondello and Cefalù.
The island's eastern area contains artistic treasures and scenic beauties: Catania, Messina, Syracuse, Taormina. We then continue towards southern Sicily, where the presence of the ancient Greek world is still visible; just think of the magnificent Agrigento and its temples.
Based on your preferences, you can orient yourself in one area rather than another in Sicily, following the map of the places, events, and archaeological sites you want to learn about and experience up close.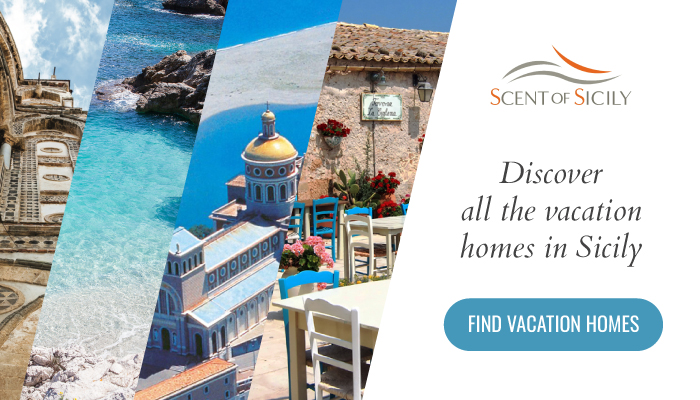 2. What type of vacation home you should choose in Sicily
Feeling comfortable in a vacation rental is a priority. For this reason, choosing the right home with the right furniture is very important; it is not just a matter of taste but also logistics, especially regarding the type of dwelling.
For example, as suggestive and prestigious villas with a classic Baroque staircase at the entrance may be, those with children with strollers or general mobility problems will certainly have greater access difficulties than a solution without architectural barriers.
The question of furnishing is definitely part of one's personal tastes, as it is normal to want to feel at ease in spaces that, perhaps, represent us and make us feel at home.
Thus, those who love evident and concrete luxury appreciate the splendor of baroque furniture, which recalls ancient Sicilian nobility, while young couples prefer more modern and linear furniture. In short, it is a matter of taste!
3. How to choose a vacation home in Sicily with a swimming pool and outdoor spaces
The possibility of choosing a private villa guarantees remarkable levels of privacy and freedom – conditions that are almost impossible to find in a hotel.
That is why it is very important to consider the presence of a swimming pool and the open spaces available, where you can spend time with your loved ones in peace, or simply walk or read in a secluded place.
Therefore, when choosing the villa, the size and depth of the pool must be considered because those with small children may have special needs, for example, shallow waters, at least in a specific area of the pool.
If you love hydromassage, you can opt for a swimming pool with a jacuzzi, perhaps overlooking the sea, so you can relax with friends, chat and have a nice drink.
Of course, a solarium can't be missing. It is the perfect solution for sunbathing and spending pleasant and stress-free moments by the pool, perhaps while the children play in the water.
As for outdoor spaces, consider what is necessary for you or what you need for a perfect holiday:
Are you just looking for a porch where you can have meals, perhaps with a nice BBQ?
Are you looking for a garden without too many trees where children can play?
Do you want to have a very large space, perhaps with plants, where you can walk, meditate, and relax in peace?
All of these needs translate, of course, into different types of accommodation to choose from, so, our advice in the previous paragraph will come in handy.
On the Scent of Sicily site, you will find splendid villas with a swimming pool near the beach and large and equipped outdoor spaces, based on your needs.
4. Vacation home in Sicily with a guesthouse
Those traveling in a group, perhaps with other couples or families, may need well-defined common areas, but, above all, to have adequate privacy.
Often, a simple room with a private bathroom may not be enough, just as it may not be enough to allocate a floor of the house to each family unit.
From this point of view, the possibility of staying in housing units separated from the main beach house, such as the guesthouses, is much more useful. Thus, everyone can have their own spaces and manage them in full autonomy.
A vacation home in Sicily on the beach with these characteristics is not very easy to find, but, in our catalogue, we are also able to offer the following structures: family villas. These villas are the most popular for those who want an accommodation on the beach with precise comforts and independent spaces.
5. Why you should choose a vacation home with views and direct access to the beach in Sicily
Waking up in the morning and seeing the sea, maybe even having breakfast on the terrace with a sea view: wouldn't that be wonderful? If this is your dream, ask for it and choose a vacation home in Sicily on the beach that makes you smile every morning and fills your eyes with beauty.
For a unique vacation, you may want direct access to the beach, i.e., a private connection that leads you directly from the vacation home to the beach.
It is a plus that adds exclusivity to your stay, but it also proves to be very convenient for those travelling with their family, small children, and the elderly in tow.
Vacations in a villa in Sicily for an exclusive stay
To choose a vacation home in Sicily on the beach, you need to have clear ideas about the specific needs of the entire group, concerning the logistics and the tastes and preferences of each person.
Everyone has their own idea of a vacation and, consequently, everyone values the pluses that may be indispensable. Remember, people rarely compromise.
For some, it may be the need to have a chef to take care of the meals and one or more cleaners; for others, it may be a personal shopper or the possibility of taking courses or, even indulging in a massage or the use of a gym.
We at Scent of Sicily take our guests' needs very seriously and try to satisfy every need or preference to make their stay truly unforgettable.
We offer you the best vacation villas in all of Sicily – charming, historical, and designer villas, with or without a swimming pool. We are able to pamper you with all the tailor-made services your heart desires.
There are a variety of activities that can be carried out in Sicily: nature, wine, food, art, and culture. Unique experiences, like experiencing a sunset on the Marsala salt pan, with a boat ride on the lagoon and food and wine tasting.on the Marsala salt pan, with a boat ride on the lagoon and food and wine tasting.
The ultimate goal is not to realize a simple vacation but to offer a real travel experience that is absolutely exlcusive with Made in Sicily hospitality.
We are waiting for you!