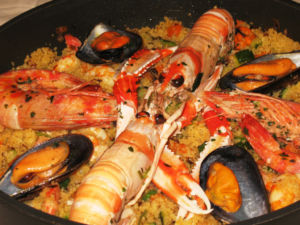 A worldwide-famous event aimed at celebrating not only the Arab-derived flavoursome delight of the province of Trapani but also the importance of the integration of different cultures – one of the most peculiar traits of the whole island of Sicily since the dawn of time. The Cous Cous Fest takes place every year, towards the end of September, in San Vito Lo Capo, the lovely seaside destination that becomes a pole attracting thousands of visitors from the whole Mediterranean area and beyond for a week, then ideally book one of our villas in San Vito Lo Capo  or one of our Sicily luxury villas in the area.

World-famous chefs gather in this tiny town with its three-kilometre white sandy beach to engage in an interesting and exciting culinary contest, coming up with their best re-interpretation of this ancient Arabic recipe, while visitors enjoy the wonders of the "Village of taste" dedicated to the countless variations and versions of cous cous, which is celebrated as a symbol of cultural integration and of that extraordinary mosaic of experiences and history that is the social ecosystem of Sicily. A glorification of the fusion and blend of different cultures and of all the good that comes along with it, and an outstanding gourmet experience: cous cous can be tasted both in its most traditional version and with plenty of flavoursome original touches from the Sicilian culinary folklore, as well as from the skill of internationally-acclaimed master chefs.
Moreover, plenty of side events are scheduled during the whole week: from arts and crafts fairs to workshops, from conferences to seminars, from live music to kids entertainment and even cooking classes on the beach!
Late September is a great time to discover the lovely town of San Vito Lo Capo: temperatures are still warm and so is the seawater, but the marvellous sandy beach is less crowded and therefore more enjoyable. If you decide to stay in one of our villas in San Vito Lo Capo during September, make sure you book your holiday when Cous Cous Fest is on: we promise it will be an event worth remembering!