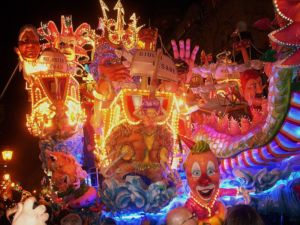 The most beautiful Carnival in Sicily and one of the best in Italy: the tradition of the Carnival in Acireale grounds its roots in the Renaissance (first official documents about the celebration date back to 1594), which makes it also one of the most ancient Carnivals in the island.
The baroque historical centre of this lovely city in the province of Catania is the setting: parades of finely-crafted and decorated allegorical floats made of papier-mâché are organized and acclaimed by huge crowds. Spectacular movements, thousands of lights, mutant backgrounds: the perfection that float artisans reach is absolutely stunning and requires an all-year work, as well as enough irony to meet the goal of mocking the most famous politicians and members of the star-system of the year. Other beautiful floats are decorated with cascades of flowers creating portraits and embellished by wonderful lighting systems – which is why night parades are the most attended and sought for. A special mention must go to the miniaturized floats, actual works of art representing the small-size version of the papier-mâché ones. An itinerant fun fair is also set up between via Felice Paradiso and Corso Italia streets.
The traditional "Abbatazzu" (ironically representing the clergy) and "Baruni" (mocking the aristocracy) masks are the protagonists, coming from the 17th Century, and folk bands come from all over Italy to take part in the celebrations that usually last three weeks in February. Comic and entertaining bands, majorettes, folk shows, masks, music and dance performances, contests for kids and rituals: a light-hearted, thought-free atmosphere that recalls the most traditional rituals of the ancient popular feast that represented the only way for the poor people to forget their troubles and make fun of the most powerful authorities of the city.
And as it happened centuries ago, the colourful Carnival of Acireale ends with the burning at stake of "Re Carnevale" (King Carnival); this cathartic moments is followed by jaw-dropping fireworks.
A shorter, yet interesting, version of this staggering and lively celebration of priceless artistic value is repeated during summer: if you are staying in our villas in Catania Sicily or Taormina villas during the beginning of August, we definitely recommend a visit to this beautiful city – you'll find that the extraordinary floats are displayed in the main avenues and squares of Acireale.