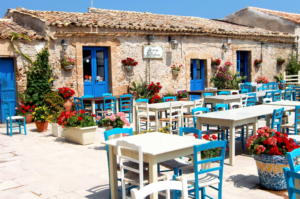 Marzamemi is a little and vibrant seaside village characterized by charming beaches, amazing light blue sea and colorful wooden boats. Don't waste your time and book now your unforgettable holiday in our Luxury villas in Sicily! Located between the agricultural center Pachino and the Baroque city of Noto, declared World Heritage site UNESCO in 2002, Marzamemi is the perfect choice to discover beautiful places around the South East coast of Sicily.
The ancient and fascinating Tonnara, sited on the coast of Marzamemi, is a place full of history, where in the past was served to shelter the great ships used to fish the red tuna. It was designed in the 1600, during the Spanish domination, and it's one of the most important Tonnara in Sicily and also in the Mediterranean sea.
The centre of the village is situated on a little promontory around the Piazza Regina Margherita and it's full of little old house of fisherman, made from stone. In this beautiful square you can visit the breathless Palazzo Villadorata, a wonder of baroque style that in summer become the theatre of the Festival Internazionale del Cinema di Frontiera, an essential appointment of culture.If you are a food lover, you are in the perfect place. Marzamemi is full of tasty food served in picturesque restaurants where you can eat typical products of this area such as Pomodoro di Pachino IGP, Nero d'Avola wine, famous to be exported around the world, and the unique bottarga and ventresca of red tuna.
Marzamemi is very appreciated for its white sandy beaches and bright blue water, but it's also a popular site for scuba diving and snorkeling. Under the sea on Marzamemi you can find a real submarine museum composed by the archeological wrecks of ancient Roman ship unfortunately slunk during navigation.
Actually is one of the most popular tourist destination in Sicily, a lot of vip, such as Sarah Jessica Parker, have chosen Marzamemi for their holidays. Come on and visit Marzamemi in our attractive and luxury villas and if you are looking for a cozy, peaceful and comfortable accommodation, take a look of our selection of Villas in Sicily with pool. Marzamemi is full of things to do: there aren't only experience to live in summer because a lot of event takes places any time of the year.
There are two ways to get to Marzamemi by plane, landing at the airport of Catania (100km) or Comiso (75km).