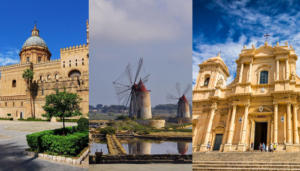 If you are in Sicily between the 4th of October and the 3rd of November 2019, you can't miss for any reasons in this world Le Vie dei Tesori, a tourist festival we can translate in english with "The treasures' streets". As you can imagine, this event is the best way to discover the most beautiful treasures of the island allowing you to get in some places that are usually closed to the public and paying much less than usual. So, if you are not yet in Sicily, this the right period to book a family villa in Sicily and join in Le Vie dei Tesori.
The festival was born in Palermo, the capital of Sicily, in 2006 thanks to an idea of the University of Palermo substained by the municipality of Palermo, but now it is organized in some of the most beautiful city of the island, or rather: Palermo, Catania, Siracusa, Trapani, Caltanissetta, Messina, Ragusa, Sciacca, Noto, Acireale, Marsala, Scicli, Sambuca, Modica, Naro.
Every city has a own tour and a own program based on all the monuments open to the public to visit and many offers to pay just one time and, when possible, get in without queue.
Sicily is a tresure to discover where you can find castles, royal palaces, churches, gardens and many other attractions dated back to all the periods of the history, above all "thanks" to the invasions of many peoples in the past. Le Vie dei Tesori is the best way to find out them in one or few days: in fact, you will be able to visit with a tour guide more than 450 locations during this thirty days.
And mind you: not only buildings and monuments! Le Vie dei Tesori is a complete festival where you can also join in concerts, dramatized visits and art exhibitions.
Discover more in the official website leviedeitesori.com and get your ticket to live a wonderful experience in Sicily!