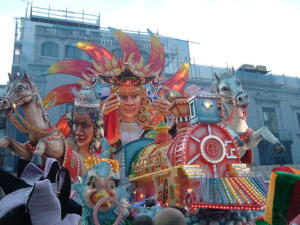 Carnival celebrations in Sicily are a really ancient traditions. Every year, each Sicilian town organizes special events offering to locals and tourists  vibrant and thrilling experiences. Those celebrations have nothing to envy to best known Italian Carnivals of Venice and Viareggio and, moreover, winter in Sicily is not too cold but actually nice, that's why visiting Sicily in winter is a wonderful holiday idea. The time of the Carnival is surely the best to combine fun and culture, to visit breathtaking sites and live the Sicilian experience: locals are warm hearted people who love to have fun and involve tourists, making them feel like home.
So wear your funniest mask and get ready to attend some of the most important Carnival events scheduled in 2018, such as the Carnival celebrations of Sciacca, Termini Imerese and Acireale, probably the best Carnival of Sicily. Start looking for an accommodation browsing our Sicily villas selection!
Carnival of Sciacca: beautiful town in the Province of Agrigento, its Carnival has very old origins. This year the celebrations will run from February 8 to 13. The masked groups with their amazing choreographies and jaw drapping parade of bizarre figures mounted on floats – which lasts all night – are a show that you really can't miss! Moreover, staying in one of our beautiful villas near the valley of the temples is the best way to be at less than an hour's drive to the Valley of The Temples, one of the most beautiful archaeological sites in Sicily, and a visit is just obligatory!
Carnival of Termini Imerese: located a few kilometers away from Palermo, the main characters of its Carnival celebrations are The Nannu and The Nanna (The Grandparents), whose tradition dates back to the end of the XIX century. The Nannu symbolizes rebirth and hope and the Nanna represents fertility. The key event of the Termini Imerese Carnival is on Mardi Gras, when the mask of Nannu is burned.
Carnival of Acireale: magnificent Baroque city near Catania, its Carnival, among the oldest in Italy, is really impressive.
This year, celebrations will take place from the 3rd until the 13th February. 10 days of events with music and dances, parades of finely-crafted allegorical floats of papier-mâché decorated with flowers, extraordinary exhibitions through the main Baroque streets of Acireale. And don't miss the most beautiful event at the evening of Mardi Gras: the awarding of the best float followed by an enchanting show of fireworks.
Enjoy a cheerful atmosphere surrounded by masks, colors, fun and the company of people from all over the world…