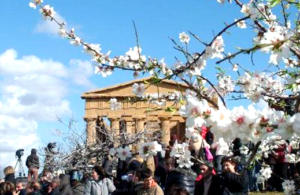 The almond blossom festival in Agrigento is one of Sicily's most famous folkloristic event. Usually guests of our Villas in Sicily near the Valley of the Temples love attending this annual country fest. Agrigento's Almond Blossom Festival has a very long history: it was founded in 1934 to celebrate the flowering of the almond trees of this period which symbolize the beginning of the spring in Sicily. This year the Festival reaches its 73rd edition, taking place from March 3rd to 11th. The Festival is usually held on the first Sunday of February but it's in March that in Sicily, thank to its mild and pleasant temperatures, the spring begins with the appearing of the pinkish-white almond blossoms:  Agrigento's countryside is completely covered by almond flowers offering a breathtaking scene! The Festival starts with the lighting of the Torch of Friendship right in front of the Temple of Concordia in the Valley of the Temples, the privileged setting of the whole event, together with an involving parade along the entire Valley. The reference to friendship it's not a coincidence: the Festival is in fact a moment of celebration of the brotherhood between different cultures, a very important message of peace to all the countries, especially in this delicate phase of our history.
The joyful arrival of the spring is welcomed with the Festival of Folklore, which protagonists are musical bands and folk groups coming from all over the world to entertain the cheerful crowd singing and dancing through the strees of Agrigento's historical centre, becoming an explosion of colours, music and traditional costumes. The event proceeds for more than a week with typical Sicilian carts parades and live shows until the last day, with an amazing final show and the award ceremony, always embraced by the beauty of the Temple of Concordia.
The Almond Blossom Festival is a huge opportunity to visit Agrigento, one of Italy's most popular holiday destinations, thanks to its historical heritage together with the renowned Valley of The Temples, Sicily's most important archaeological site. The lovely climate and the scent of the almond blossoms is the sweetest way to have a taste of the Sicilian spring and to lose yourself in the history and traditions of this magic land!