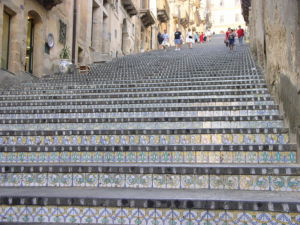 Quietly perched on a mountain connecting the Erei and the Hyblaean Mountains, Caltagirone dominates the two plains of Gela and Catania, which is why all the populations who occupied Sicily throughout history built in the city their most important strongholds. Most famous all over the world for its production of ceramics, first started during the Greek domination, this lovely destination is nowadays appreciated for its remarkable churches and refined palaces and Seventeenth-Century villas: the value of its artistic and monumental heritage has been awarded by UNESCO that listed Caltagirone among the World Heritage Sites back in 2002.
Tourism and ceramics are the most important resources of this pretty town where every corner tells an interesting and ancient story: the name itself comes from an Arabic term that meant "Castle of pottery jars". Plenty of extraordinary works of art are still preserved in the city's Museum of Pottery, where some of the terra-cotta objects date back to the period of Magna Grecia. The outstanding quality and creativity of Caltagirone's ceramics is best admired in the most famous landmark of the town: the monumental Santa Maria del Monte staircase, whose 142 steps are all decorated with hand-painted ceramic tiles, using the typical colors, shapes and patterns of the most traditional pottery production and art. If you happen to be around by that time, don't miss the marvellous show of the staircase illuminated by thousands of candles creating an artistic image on Saint James' day (July 25th).
As it happened for the other baroque towns of the Noto Valley, Caltagirone was destroyed by the massive earthquake of 1693 and then rebuilt with a very perceivable baroque imprinting: its elegant historical centre includes beautiful examples of the most typical Sicilian baroque architecture, such as the church of San Giorgio and Santa Maria del Monte, located on top of the famous and colourful monumental staircase and rich in invaluable paintings and statues.
Together with elegant and refined palaces and churches, the historical centre of Caltagirone is studded with a multitude of tiny lovely boutiques and shops selling beautiful ceramics, pottery and terra-cotta works of art from the local laboratories: a souvenir is compulsory! To find the best villas for your stay, we advise you to check out our Sicily Countryside Villas or our Villas in Sicily with pools