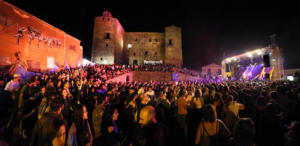 The setting is the beautiful Medieval town of Castelbuono, in the province of Palermo. Mainly known for its beautiful Castle in Arab-Norman style, this little city is a real Sicilian gem rising on the Madonie Mountains. Once known as "Ypsigro", during the Byzantine era, today Castelbuono is the stage of the Ypsigrock Festival, one of the most famous indie-rock festivals in Europe and also the first Boutique Festival in Italy. Its 22nd edition will take place from August 9th to 12th.
Can't wait to be there? Take a look at our Budget Villas in Sicily to find the villa of your dreams at a bargain price!
Ypsigrock is a tribute to the contemporary indie-rock music established back in 1997 and organized by the Glenn Gould Association. Since 1997, the Ypsigrock festival attracts fans and curious to Castelbuono's main squares, located all over the little city. The main stage – the Ypsi Once Stage – has a very special location: the jewel of Piazza Castello, enclosed between the ancient Medieval Arch, the immense staircase and the imposing manor of the Ventimiglia, an area rich in history and enchanting beauty.
Ypsigrock has gained an excellent reputation over the years: it has been awarded as Best Festival at the 2015 Italian On Stage Awards. In 2017 has been selected as one of the Best Small Festival during the European Festival Awards. Why the Festival is so successful? Probably because it puts together good music – with an amaing artistic programming that brings internationally famous artists to Sicily – , folklore and Sicilian traditions – delicious cuisine and excellent wines as well – a lively atmosphere in a dreamy location: what's better than this?
Go to www.ypsigrock.it/en/ for more information!
Ypsigrock is not a "provincial" festival but an international event, an unmissable appointment not only for music lovers but also for those who cannot wait to discover the beauty of Castelbuono and that of the surrounding area. 
Castelbuono is a great travel destination for your holiday in Sicily and also a good starting point to discover Sicily's north coast: besides Palermo, Cefalù with its majestic Cathedral with Arab and Norman artistic features and the Byzantine mosaic decoration, Pollina and its crystalline water and the Madonie Regional Natural Park. 
For a holiday in Sicily among nature, art and entertainment check out our Villas to rent in Sicily.
Photo credit: Stefano Masselli. Source: www.ypsigrock.it/en/.