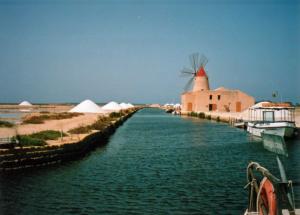 Sicily is full of little and big cities and tows that surely deserve a visit once in a lifetime: Marsala is one of them! Marsala is a place you have to schedule in your holiday itenerary renting a family villa in Sicily. Marsala is an important sicilian city both for its historical events and for its natural beauties. It is located in the west coast of Sicily, about 100 kilometres away from Palermo and it is the fifth biggest city in Sicily. But above all, Marsala is known for a Risorgimento's great event, or rather the landing of Giuseppe Garibaldi (Expedition of the thousand) in 1860. Moreover, the wonderful beaches and the tasty traditional delicacies make Marsala a fascinating town to visit if you are in Sicily.
You can start from the city centre where an amazing cathedral is the protagonist of the Piazza della Repubblica: it is the Duomo di San Tommaso di Canterbury, the main and biggest church of Marsala. In the square, you can  also admire a tapestries musuem where some wonderful rare flemish tapestries are located. Going out from the centre, after visiting the City Hall (a charming spanish palace) and the ancient market, you will arrive to the Lilibeo. It is a huge park and one of the most important historical areas of Marsala where it is possible to see the remains of an old punic city called, in fact, Lilibeo.
Last but not least, Marsala's amazing beaches. San Teodoroand Punta Tramontana are two of the most beautiful beaches of Marsala where the quiet is the main feature. Both the beaches are, in fact, really peaceful so they are the best places to enjoy a relaxing day under the sun with your family or with your friends. San Teodoro beach is an incredible peace oasis characterized by a special white and soft sand and by a very low tide caressing your ankles. During the day, this tide becomes to be higher and you will feel your body totally wet until your feet will not be able to touch the sea bed anymore: a rare experience that you can enjoy in this particular beach.
Punta Tramontana is located in the north of Marsala and it is a huge area of the Riserva Naturale Lo Stagnone. Thanks to its great size, Punta Tramontana is the perfect place to spend a day with your family because it is rarely crowed so you can relax while your children can play peacefully without any troubles. Besides, the white sand and the crystal clear water make this beach a very famous place to visit.
Moreover, Marsala is well known for the quality and the wide range of its local delicacies. In Marsala you can taste a big variety of traditional sicilian food, but what you cannot really miss is the Marsala Wine. It is a liqueur wine known all over the world for its particular taste and made by a long production process using  some peculiar types of grape. If you want to know how this wine is made, you can visit the historical Cantine Florio, still in Marsala, that is nowadays one of the oldest winery in Italy.
So, there are a lot of things to see and to do in Marsala. You just have to rent one of our villas and enjoy your holiday in Marsala!
Top image: Marsala; Source: Wikipedia; Credits to: FlickreviewR