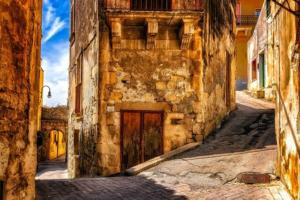 Modica is one of the most picturesque cities in the province of Ragusa and a bit of Sicily in general. There are so many architectural beauties to see in Modica that UNESCO has included Modica in the list of assets protected as World Heritage. For these reasons, many tourists come in this wonderful town, book one of our luxury villas in Sicily and spend some days to discover Modica and its surroundings.
The city stands on an extensive plateau 15 km away from Ragusa and was once crossed by two rivers. Between 1700 and 1800 in Modica there were as many as 17 bridges that allowed the crossing of the streams, which made it look like Venice. Also along the banks of the rivers there were various mills that over time were replaced by industrial ones, while the waters were channeled to supply the city water network.
The oldest part of Modica revolves around the ruins of the ancient castle, where a tangle of streets leads to the highest point of the city.
Next to the purely medieval architecture you can admire splendid buildings, mostly sacred, of exquisite Baroque taste and suggestive noble palaces, a sign of the ancient wealth of Modica.
Furthermore, entering the oldest part of the city, one can see the houses leaning against each other and often obtained partly exploiting the natural cavities of the rock.
These caves have been inhabited since prehistoric times and today many have literally been incorporated into the more recent buildings.
Modica is purely Baroque, so there are very few previous architecture still alive and the medieval structure of the oldest center.
Among the buildings that still maintain non-Baroque features we can mention the Chiesa del Carmine, which has a Gothic portal, the ruins of the Chiesa del Sacramento and the rocky Chiesa di San Niccolò Inferiore, dating back to the 12th century.