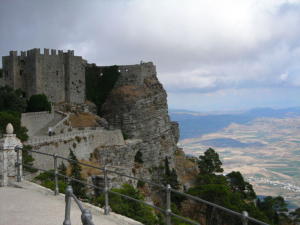 Among all the wonderful towns to visit during your stay in Sicily, you can't miss Erice and its beauties. Why? Because it is a corner of paradise at the top of a mountain where a magical panorama offers itself to the visitors. Both in wintern and in summer, Erice gives away some special views of its land but through two versions, based on the weather of the season. Rent a family villa in Sicily and go to discover Erice!
Erice is located in the west coast of Sicily, half an hour by car from Trapani, perched 751 m high on the mountain overlooking the sea. The history tells about many peoples who settled in Erice thanks to its altitude where it is easier to defense ownself but still close to the sea to exploit the maritime navigation. So that's the reason why Erice is full of ramparts and ancient walls useful to protect the town and nowdays they became important to feature the landscape. Tourists who visit Erice are enchated by its atmosphere because, as already said at the top, this town is able to offer two different magical view: immersed in the fog during winter, illuminated by the sun during summer. The fog makes Erice something of never happen, like a ghost town detached from the rest of the world, while in summer, thanks to the sunlight, you will be able to appriceted better its beauties but without the medieval atmosphere of the winter. Anyway, Erice is always something of special, a unique town in Sicily you have to find out during your holiday in Sicily!
Here's to you some place to visit in Erice:
Chiesa Matrice (the main church): neogothic church built in XIV century, featured also by a bell tower;
Castello di Venere (Venus Castle): an ancient castle located at the higher top of the moutain where you can enjoy a wonderful panorama;
Quartiere Spagnolo (Spanish District): a building that has to be for Spanish Soldiers but it has never been finished. From there it is possible to admire Monte Cofano gulf and Tonnara di Bonagia;
Tonnara di Bonagia (Bonagia Tuna Farm): it is not actually in Erice but very near from it. In the past, this building overlooking the sea was used to make the slaughter of tuna. Nowadays it is a hotel.
Top image: Venus Castle and panorama; Source: Wikipedia; Credits to: Jos Dielis.