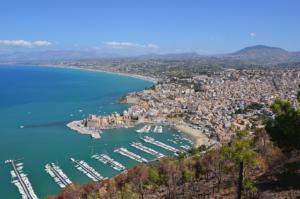 The entire coast of Sicily is a perimeter of wonderful sea places with surreal caves or huge golden beaches or even some magical rocks and faragliones on the sea. In this article we want to focus on Trapani's coast. 
Trapani is one of the littlest cities of the nine main cities in Sicily and it is located in the west corner of the island, bordering with the capital Palermo. Thanks to its strategical position and its beauties, Trapani's area is well known by tourists who rent a villa in Sicily with sea view to find out the place and, above all during summer, its coast. That's the reason why we suggest you to spend the last days of your sicilian summer in Trapani's beaches.
Along the coast, there are many sea places to discover; in this guide, you will find just some of them, or rather those ones you can't miss during your holiday in Trapani. But now, let's go:
Baia Cornino: It is one the most famous beach in Trapani and also in Sicily, in fact every summer is crowed by many tourists. The main feature is the mix of thin sand and rocky stretches that give away a wonderful panorama.
Mura Tramontana: If you have kids and they want to enjoy on the beach, Mura Tramontana is a good place. The low tide and the calm water will allow you to relax while your children are playing on the sand or in the sea.
Tonnara del Secco: Neither crowd nor low tides, we are deal with a lagoon and a white sand beach in the middle of a protect area not so easy to reach. If you are a wild lover, this is the right place.
Scopello: Faragliones and caves are the most particular features of this place. Along Scopello's coasts you can find many beaches and caves and some of those are easy to reach by the street, the other ones are hidden and it will be fun trying to find them.
Riserva dello Zingaro: One of the most beautiful natural protect areas in Sicily, not only for the sea, but also for the flora and fauna you can find there. You have to walk a lot before reaching it, but the landscape will restore you.
Here's to you some of the best sea place in Trapani's area. As already said, remeber that this list is just a suggest so, if you have many days to spend in Trapani or near this land, check other beaches and enjoy the last month of summer in this magical place!