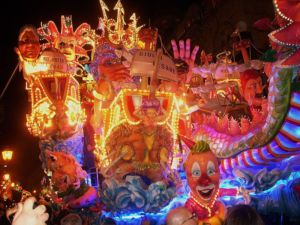 The Carnival of Sciacca is one of the best-known events that are held in the town during the carnival. The origins of the Carnival of Sciacca, a town in the province of Agrigento, dating back to a much earlier period, perhaps to Roman times, when they were celebrated the Saturnalia, and their king was sacrificed; or rather, more likely, to 1616 when the viceroy Ossuna decided that the last day of celebration everyone had to dress in costume.
This is the 116th edition of the Carnival. The parades take place on Saturday, Sunday, Monday and Tuesday of the week before the start of Lent. Currently the Carnival starts on Thursday fat with the symbolic handover of the keys of the city to the king of Carnival Peppe Nappa, character adapted from Saccensi as a local mask that opens and closes the festival. Ends on Shrove Tuesday when the Chariot Peppe Nappa is burned in the square.
The departure of the parade with the wagon of Peppe Nappa, takes place from Friscia Square. From that moment the wagon Peppe Nappa begins to distribute wine and sausages prepared on the grill for the duration of the carnival. On the streets of the old town, meanwhile, is a series of wagons, preceded by folk groups who perform in dances and songs, which later repeated the performance made in the street on the big stage set up for the occasion.