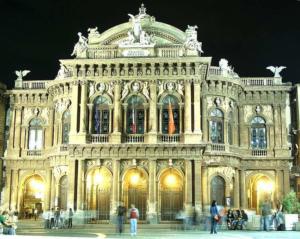 If you booked a family villa in Sicily to visit Catania during your holiday, then you shouldn't really miss Teatro Massimo Bellini. Why? Because it is one of the most beautiful and important gems of this city thanks to its architectural beauty and its history. The project was entrusted in 1870 to the italian architect Andrea Scala who started to manage the building with Carlo Sada's help, an other important italian architect. Because of few financial incentives at that time, the theatre's building finished in 1887 and it was inagurated just three years later. On May 31st 1890 the inauguration took place with a wonderful show of Norma by Vincenzo Bellini, a local famous composer, that was already known in the whole peninsula. This is the reason why the theatre is called "Bellini": it bears the name of the first artist who performed in.
The Teatro Massimo Bellini shows a wonderful neo-baroque facade, but the rest of the building has a different style. Getting in, a round hall welcomes its guests, who can also admire a bronze statue of Carlo Sada, where they used to stay before and after the show. Next to it there is the main hall, or rather the stage hall, where the shows take place. Stage hall's ceiling was frescoed by the painter Ernesto Bellandi, who portraied Bellini surronded by his main operas (Norma, La Sonnambula, I Puritani e Il Pirata), but the most important element is the acustics. Thanks to Sada's work, Teatro Massimo Bellini is the theatre with the best acoustics in the world, according to many important artists who performed in. 
Among these artists we can also find the best lyric singer in the world, Maria Callas, who performed many times in Teatro Massimo Bellini and said that this theatre is featured by a surpassing acoustics.
Many other important musicians of the XX century appeared in this stage, like Luciano Pavarotti, Riccardo Muti and Renata Scotto.
Teatro Massimo Bellini is whitout any doubts one of the symbols of Catania. It is possible to visit it every morning from tuesday to saturday, and in the afternoon just on wednesdays, thursdays and fridays.
Top image: Teatro Massimo Bellini; Source: Wikipedia; Credits to: Superbizzu.