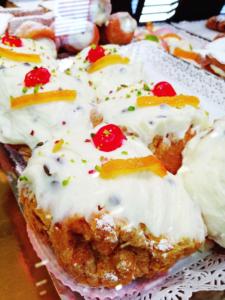 One of the oldest popular traditions in Sicily is  St. Joseph's Day, whose celebrations take place on March 19th. Sacred and profane mix together during this day, because it's surely a moment of deep devotion and homage to St. Joseph, but it's also a folkloristic feast rich in traditions and joyful moments. Although it's also celebrated throughout Italy, this day has a special meaning for Sicilians. According to legend, during the Middle Ages, Sicily was affected by a terrible drought and famine: many people died of starvation and Sicilians started praying and begging St. Joseph promising him to celebrate his day with the "St. Joseph's table", an altar with special foods, flowers and devotional object as their thanksgiving for his great miracle.
St. Joseph's day is a chance to discover the spiritual character of Sicily and just another great way to live the Sicilian experience. Since March 19th is also Father's Day in Italy, Sicily could be the perfect destination for an unforgettable family holiday! Our beautiful Family Villas in Sicily are carefully chosen among the others to provide a special comfort for large families or couples with kids.
Today, this holy tradition continues and celebrations' list is just endless. Several Sicilian town organize their own moving procession with prayers and songs through the ancient streets of the city centre such as the one in Santa Croce Camerina, in the province of Ragusa, or Gangi, near Palermo, together with touching parades, where people ritually shout invocations to the Saint in local Sicilian language. St. Joseph is also the patron saint of Bagheria, beautiful town located a few km away from Palermo, which is particularly renowned for the beauty of its ancient Baroque Villas, and even celebrated twice a year, the second time in August. But especially in Palermo, the most famous tradition of St. Joseph's Day is absolutely the so-called "Vampa" a huge bonfire settled up inside city's squares and districts.
And of course, as everything in Sicily, even this special day comes with a serie of food traditions: during the celebration, people eat the most popular recipes of the day such as dishes with fava beans but also pasta with "sarde", St. Joseph's bread with fennel, but the real "queen" is the sfincia, a soft spongy puffs filled with ricotta and decorated with candied fruit.