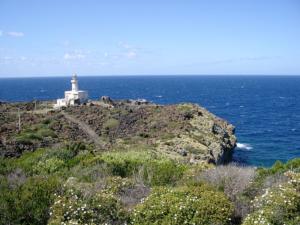 Sicily is surrounded by beautiful little islands offering wonderful landscapes. The biggest one is Pantelleria, located in south Sicily, in the heart of the Mediterranean Sea, just 70 kilometres away from Africa coasts. Full of enchanting scenarios, Pantelleria is one of the favorite places to visit by our guests of Scent of Sicily's Villas on Sicily's islands.
To let you know the incomparable beauty of this island, we could start talking about Venus Mirror Lake, Pantelleria's most famous place to visit: its wonderful view on the island's rich flora and fauna are just amazing and it is also appreciated for its thermal mud. The island was originally a volcano and Venus Mirror Lake is set on an ancient volcanic crater. That's why, people choose to visit the lake to enjoy  its mud, slathering it on the body, spending their time relaxing inside Venus Lake's hot water.
The Pantelleria's archeological area is featured, above all, by a medieval stronghold, an acropolis and the sesi, particular constructions. The first one is the Castle of Pantelleria, built during the middle ages and used as jail until 1975: today, the ancient Castle is a museum hosting an interesting art gallery.
The Acropolis are located on two hills where roman and punic politic functions used to take place.
Sesi and the other attractions of this land are characterized by an igloo shape built overlapping stone by stone and with a very little entry. They were built more than 500 years ago by Africans as sepulchral monuments, even if their function was unknown until XIX century.
For those who want to visit a sea place instead, the best choice is of course Elephant's Arch, so-called because the rock looks like an elephant head. This particular rock shape became an iconic element of Pantelleria: year after year, lots of tourists choose to explore this wonderful area of Pantelleria swimming and enjoying its wonderful seabeds.
Pantelleria is also famous for its incredible sea caves: the best way to discover the caves is surely by a typical boat trip. A boat trip during sunset is a really great experience: don't miss it! 
Full of life, Pantelleria is one the most beautiful little islands in Italy. Despite its size, the island offers a rich variety of activities to experience for an unforgettable holiday in Sicily.