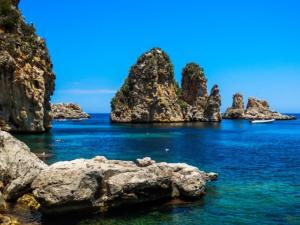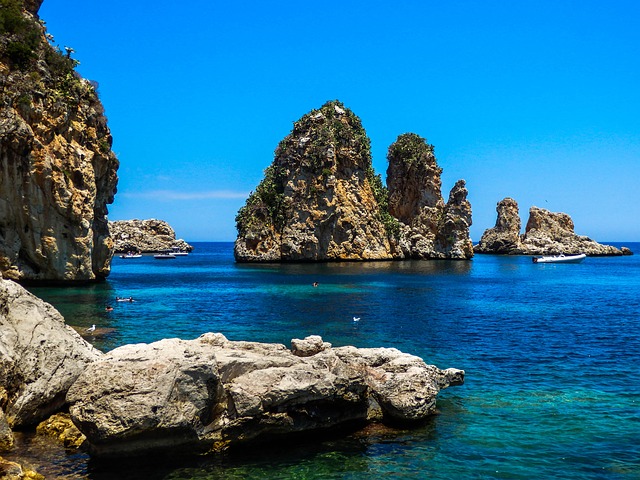 Scopello is an enchanting little town where bright colors come to life to light up the land and its beauties. It's summer and many people from the north of Europe or from all over the Italy, come in this wonderful place and rent a villa in Sicily with seaview to enjoy Scopello's beaches and also its historical centre.
Located in the northen-west coast of the Sicily, few minutes by car from Trapani, Scopello is a place to discover step by step. We can start to speak about its sea places, that are able to make the tourists fall in love just at the first view. In fact, for a foreign is not too easy seeing a place like Tonnara di Scopello: built in XIII century as a tuna farm, today is no more exploited like that but as a tourist place so much famous to have become a symbol of the entire town. You will be able to visit the building and discover how the ancient fishermen fished tunas in the past.
From the Tonnara you can admire the wonderful stacks emgerging from the cristal clear water where you have to dive into and enjoy its seabeds. A wonderful experience to make once in your life. Tonnara is a sea place good for everyone because you can relax under the sun, dip from the highest point of the stacks, enjoy scuba diving while you are arounded by a unique spot.
Along the coast you can find many other fascinating sea place, smaller and less famous than Tonnara, but still wonderful and less crowed. Going far from the sea, you can easily reach the city centre where a typical Sicilian Square lighted by the sun always gives away a joyful atmosphere. In this historical centre you will be able to taste many of the traditional delicacies, but what is mandatory to taste is undoubtedly the "pane cunzato", or rather a seasoned bread with oil, salt, tomato, sicilian cheese (primo sale), anchovies and oregano. A very simple dish, but a unique taste in the mouth.
If you was thinking to discover a place in Sicily and had some doubts, now you know Scopello is one of the right places to visit in Sicily. You can rent a villa in the northen coast of the Sicily and find out Scopello in just one day, discovering its sea, its colours and its delicacies.