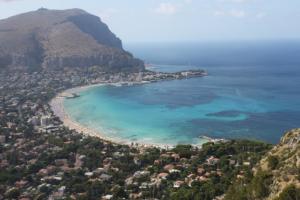 Summer is coming and Sicily can't wait to show its beauties. As it is known, Sicily is a big island full of sea places and it is the reason why every summer many tourists from all over the world land here, rent a villa in Sicily with sea view and relax in Sicilian beaches.
Today, we want to talk about the best beaches of the capital of Sicily, Palermo, where a long coastline will be able to enchant also who don't love the sea. So, let's go find out them!
If we have to tell about Palermo's beaches, we can't deal with Mondello, one of the most known beaches in Europe, featured by a crystal clear water. The wide beach is perfect to relax under sun while your children are playing on the beach: the typical italian beach day!
Going on from Mondello, it will be very easy to reach one of the other seaplaces you have to visit during your stay in Palermo or in Sicily: Capo Gallo. It not a beach, as Mondello, but a marine reserve that gives away some special rocks on the water views.
Addaura is a little district of the northen part of Palermo, characterized by a beautiful beach where you will be able to dive into and discover its magical seabeds full of marine life. Addaura is absolutely a mandatory stop during your holiday in Palermo.
Going further from the capital, but still staying in the province of Palermo, worth a visit some seaside towns: Sferracavallo, Terrasini, Cefalu just to name a few.
Sferracavallo is a fraction of Palermo and its beach its most beautiful beaches are Baia del Corallo and Barcarello, with a special crystal clear water; around it, you will find many restaurants and bars. Red rocks in Terrasini are the protagonists of the seaplaces: in fact, many coves in the coastline are featured by this particular colour to give away a wonderful view. Eventually, among some of the best beaches near Palermo, we find Cefalu, one of the most famous town in Sicily, located at the foot of the mountain and bathed by a magical sea. In Cefalu there are many sea places and coves to visit: an other mandatory stop during your stay in Sicily.