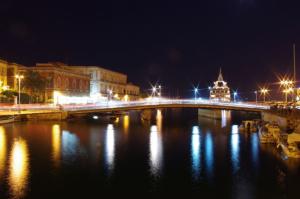 Set in the south-east of Sicily, Siracusa is one of the nine biggest cities of the island, known also to be a town rich of beauties. For this reason, tourists from all over the world come to Sicily, rent a villa in Sicily with pool and visit Siracusa even if they have just one day of vacation.
During the Classical Age it was one of the most important cities thanks to its richness and military power. Later, through the years, many peoples invaded Siracusa, but nowadays the town is mostly featured by a Greek imprint thanks to many monuments from Greeks. An example? The Greek Theatre. Among all the monuments and places to visit, in fact, the Greek Theatre is one of these for its historical importance. Built in V century B.C., today it is one of the most visited tourist attraction in Sicily. And if you would like to watch a Greek tragedy, you have just to inquire about the calendar and buy the ticket: it could be one of the most beautiful experience in your life.
Still staying around it, you can also find an other place to visit: the Dionysus ear. It is a huge cave located under the theatre where, speaking, the human voices is widely amplified; the legend told that this cave was built by the greek tyrant Dionysus to imprison his enemies and hear their conversations, exploiting the effect of the amplified voice.
As already said, not only greek people was in Siracusa. Romans were also one of the people who invaded the city and that is the reason why Siracusa has a Roman Amphitheatre. The building is set upon a hill, excavated into the rocks and built using the local stones obteined by the latomie, a typical cave of this land. The Roman Amphiteatre is a place to visit to discover the Roman part of Siracusa.
Going inside the town you can reach easily the city centre that is, acutally, a little island called Ortigia. Connected by two bridges, it is featured by many little characteristic streets, many musuems and monuments, above all the Duomo of Siracusa. Even if it is the most important Christian architecture in Siracusa, in the past the Duomo was not a church but a Greek temple built for goddess Minerva: the Greek imprint seems to be always present.
Eventually, in Ortigia you can find also many restaurants and pubs: the perfect place to start the visit in the morning and to come back in the evening.
Here's to you some suggestions to visit Siracusa and its beauties in just one day. Instead, if you have more time to stay in this amazing town, you can also go to visit the Fonte Aretusa, the Castello Maniace, the Apollo Temple and all the wonderful Siracusa's beaches.
Top image: Siracusa, bridge to Ortigia; Fonte: Flickr; Credits to: Marco Brunetti