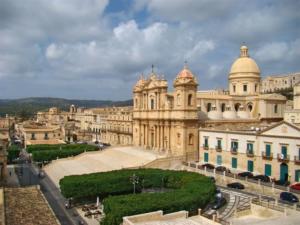 Noto is a wonderful town located in the south coast of Sicily, famous for owning many monuments and spots to see that were listed in UNESCO World Heritage. The city was founded in 1703 when, after the heartquake that destryoed Noto and many other towns in this part of Sicily, the aristocracy decided to rebuild the town following the Baroque style of that age. Thanks to that decision, now Noto is crowed by many tourists from all over the world who rent a villa with pool in Sicily and discover this enchanting town.
There are very few towns in Sicily as rich of beauties as Noto. Its large streets, extended from east to west, are interrupted by squares, stairs and terraces to create a wonderful atmosphere in a unique mix of architectonical elements. It is the result of the healthy competition started among all the architects and the other artists during the rebuilding of the town in XVIII century.
Now, here some tips to discover the best things to see in Noto in just one day:
Chiesa di San Niccolò: this is of course one the best monuments in Noto that you have to visit! A huge Baroque church dating back to 1758 where you can get in after a long and particular stair. Inside, you can admire some wonderful decorations and frescos that are the reason why today the interior is the most important of all the Baroque monuments in Sicily;
Palazzo Nicolaci dei Principi di Villadorata: also this building dates back to the XVIII century and you can see it through the Baroque style that features both interior and external part of this palace. In fact, the most particular elements are the balconies whit their curved railings and strange decorations, like sirens, hippogriffs, winged horses and many others, support the base of them. Palazzo Nicolaci owns more of 90 rooms that was used by Nicolaci aristocratic family during that age;
Palazzo Ducezio: built between XVIII and XIX century, this building is today the headquarter of the city Hall. This great palace is dedicated to Ducezio, the ancient military general who fought against the Greeks who wanted to dominate Noto. Among all its attractions, you can admire the fascinating frescos on the roof and a great game of mirrors that make the hall seem bigger and with endless galleries;
Vendicari: this place is a nature reserve where away from the city centre but a spot to see. In fact, Vendicari is the ancient part of Noto where the Baroque style is no more the protagonist to give space to the stone finds and to the wonderful little beaches. We strongly recommend the Calamosche beach.
This list is what we suggest to see if you are in the south-west part of Sicily, or near Syracuse. But if you have more time to visit this great town, keep in consideration some other spots like: Museo civico, Porta Reale, Monastero Benedettino and Chiesa di Santa Chiara.
Top image: Noto Cathedral; Source: Wikipedia; Credits to: Tango7174