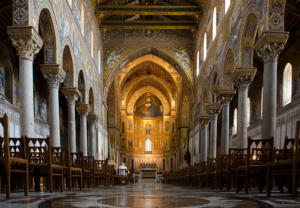 The Cathedral of Monreale is located less than ten kilometers from the Sicilian capital, Palermo, and it is one of the places of historical and cultural interest on the Unesco site "Arab-Norman Palermo and the cathedrals of Cefalù and Monreale". For this reason, tourists who choose to rent a family villas in Sicily often plan at least one day to visit this city and its Duomo.
Monreale is, in fact, one of the most sought after tourist destinations by travelers visiting the beautiful northern Sicily. The visit of the major attractions requires at least a full day, since the Cathedral is not the only attraction, but certainly the main one.
In addition to being included in the list of UNESCO World Heritage Sites, the cathedral of Santa Maria Nuova is considered one of the most important medieval churches in the world. It combines truly unique varieties of styles and structural originality. To the east are the two visible apses, in their magnificence, even miles away; the exterior of the church is massive, but at the same time simple in its forms.
The interior of the church is a Latin cross with three naves, divided by 18 marble columns decorated with different capitals. Monreale Cathedral is known worldwide for its mosaics: an area of over 6,000 square meters and over 130 Byzantine mosaics that adorn the church and depict episodes taken from the Old Testament, the New Testament and the lives of the saints.
At the center of the church, in the apse, stands the large mosaic of Christ Pantocrator which, illuminated by external light, creates a unique visual effect. For its size, complexity and richness of styles, we recommend that you visit the cathedral with the accompaniment of an expert guide who can enhance its history and beauty.