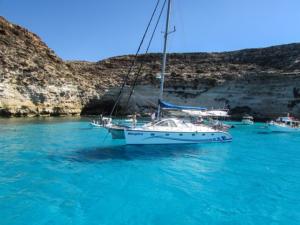 It is one of the most beautiful little island in Italy, this is the reason why people from all over the world rent a villa in Sicily with pool and go to visit this special land. We are dealing with Lampedusa, the most famous little island surrounding Sicily and the biggest of Pelagie archipelago. It is located in the centre of the Mediterranean Sea and, even if it is part of Italy, geographically it is nearer the African coast than the Sicilian coast. For this reason, Lampedusa is a mix of cultures, styles and climate between Sicily, Italy and Africa: a place to visit once in your life.
Let's go discover the best spots to visit in Lampedusa!
As it is easy to imagine, being an island Lampedusa has some brilliant and unique sea places. In fact, it is mostly known for them, above all for Isola dei Conigli (Rabbits' Island), considered one of the most beautiful in the world. Yes, you read well, in the world. And it is easy to appreciate it just at the first view, with its unique crystal clear water and an incredible white sand. During summer months, the loggerhead sea turtles choose Isola dei Conigli to reproduce: to avoid problems about, every year WWF volunteers take care of preserving this place. They also take care of the turtles thanks to a special hospital where these volunteers treat and heal them. It is the Sea Turtle Recovery Center, the perfect place to visit and undestand how strong is the human impact on the environment; the entrance for tourists is free.
Along the coast, there are many other beautiful beaches to visit. Here's to you some tip: Faro di Capo Grecale, Cala Greca, Cala Pulcino, Tabaccara, Cala Madonna. These are just some of the many other special sea places to see in Lampedusa, each one with some different features.
Via Roma (Roma Street) and the port is the city centre, or rather the only part of the island where inhabitans live and where tourists and citizens go to enjoy the night or to eat some Sicilian delicacies.
Going far from the city centre, you can find some Dammusi. In the past, when the agriculture was the most important source of money in this island, Lampedusa people used to live in Dammusi, a little building made by local red rocks. It is a typical building that you have to see if you want to say "I know all about Lampedusa".
Ready for your next holiday in Lampedusa? Rent now one of the villa of Scent of Sicily and enjoy your vacation!