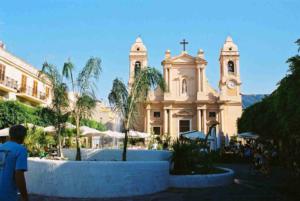 If you want to live a unique Sicilian Easter's experience while you are visiting this wonderful island, you can not miss the "Festa di li Schietti" in Terrasini, 35 kilometres away from Palermo. Rent one of our villas in Sicily with sea view and join this special event. This feast is very particular not just because it is a party where there are many colours or music but, above all, thanks to its huge folkloristic importance that dates back to XIX century. In fact, at that time the young people's love relationships, in Sicily, were focused on the strongness of the boys that was very fascinating for girls. For this reason, the Festa di li Schetti was the perfect moment were boys could show their power: they had to lift up to the sky a orange tree with their own hand and take it high as more time as they could. The best player used to win a money gift and also, above all, the attraction from the girls in the town. After that, in fact, the winner used to have more chances to conquer the heart of his beloved and not being anymore "schietto". In Sicilian dialet, in fact, the word "schietto" means "single", accordingly Festa di li schietti literally means "Feast of single boys".
Fortunately, this particular feast is still living in Terrasini and every year, during the Easter period, it takes place in Duomo Square. This year, Festa di li Schietti will be on Saturday the 20th and on Sunday the 21th of April, the Easter day, when you can see the traditional cut of the tree, take part to the square meal with the typical sicilian food and, eventually, see the competition.
Terrasini, as already said, is located in few minutes by car from the capital of Sicily, Palermo; but you have to know that this town is famous also for other things. Its wonderful seafront gives away to the tourists a wonderful landscape of the sea that is, during the summer, crowed by many people, but you can also visit many other sea places like Cala Rossa and Paternella. So, eventually, if you want to join the Festa di li Schietti, you will be able also to visit the rest of the town and live the night life full of young funny people but also many families with children immersed in a enjoyful atmosphere.