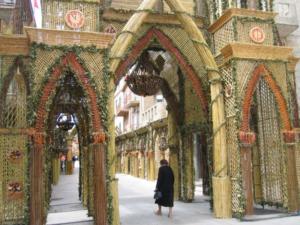 Even if Easter is gone, in San Biagio Platani, 37 kilometres away from Agrigento, there is a wonderful coloured feast called Easter Arches, where art, music, culture and history meet each other to give away a joyful atmosphere. Tourists who rent a family villa in Sicily will be able to join this event and enjoy a happy day with their family, discovering a traditional Sicilian feast that dates back to the XVIII century. The feast begins on easter day – and it is the reason why the event is characterized by this happiness – and lasts until the 2nd of June. But why is this feast so beautiful?
On easter day, the main street of the town, corso Umberto, wakes up decorated with many artistic buildings: arches, domes, and bell towers realized with different materials coming from the nature. In fact, this artistic buildings are realized with bamboo sticks, willow, laurel and bread. These materials, indeed, are poor things that are used to reproduce the historical period when this feast was born. During that age, San Biagio Platani was a very poor town but people wanted to celebrate the Easter: this is the reason why the buildings are created with this poor materials and the result is a wonderful mix of colours that will be kept forever in your mind.
The feast was born a few years after the birth of San Biagio Platani town, or rather in the second half of the XVII century when two different brotherhoods of the town decided to decorate by themself that street. This sort of friendly battle gave birth to this feast and, fortunately, nowadays it is still celebrated and visited by many tourists.
As already said, you can visit it until the 2nd of June and we suggest to do it because this is the best period to visit Sicily. The view is wonderful and you can feel the happiness in the air: the perfect place also for your children.
Top image: Easter Arches; Source: Wikipedia; Credits to: Sicilian mama