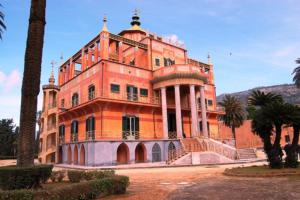 In a city full of historical palaces in its famous arab-norman style, an asian palace at the foot of Pellegrino Mountain seems to be totally incoherent with the rest of the city's treasures. We're talking about the Chinese Palace of Palermo, a building which dates back to the end of XVIII century wanted by king Ferdinando IV di Borbone as his new dwelling. The king, escaping from Naples after the French Revolution's consequences, entrusted the building to one the most famous italian architechts of those ages: Venanzio Marvuglia.
No, chinese people never invaded or dominated Palermo, however, asian culture started to be very interesting for european aristocrats since the XVII century. The Chinese Palace, in fact, is a little wonderful piece of Asia in a big sicilian city that nowadays fascinates visitors who rent our budget villas in Sicily . Today, the royal residence is actually a museum, so let's go discover it!
The Chinese Palace is divided on 4 floor: a mezzanine, a first floor, a second floor and the basement. Notable as well the palace's magnificent garden. Its oriental architecture will make you feel in a Chinese city! The central body of the building, in fact, is featured by a typical chinese roof shaped like a pagoda, the asian columns characterize the entrance and the entire building is full of oriental architectonic elements. 
In the mezzanine there are many rooms, like the one where the king used to meet other lords and monarches from all over the world. The room's roof is finely decorated with some everydays' scenes played by chinese characthers, but also with many sentences wrote in different languages as a "welcome" to all the guests from other countries.
In this floor we can also find  the dining room, the king's bedroom and a gambling hall, all decorated, of course, in asian style.
The first floor was dedicated to ladies and knights' rooms but, surely, the most beautiful floor is the second one, with queen's bedroom and other rooms featured by different styles. The first one is the Turkish Room, furnished by triangular sofas, and decorations like stylized suns and half-moons. Then, there is the Ercolana Room, featured by an empire style and the queen's room. This one has a neoclassical style and it is decorated also with some little frescoes by queen Maria Carolina. A very particular bathroom is the protagonist of this room: it is called Hard Rocks Toilet ("Gabinetto delle pietre dure" in italian language) because it was realized with hard rocks, marble and vitreous paste.
In the basement it is possible to visit the dance hall and the bathroom: in fact, the aristocrats used to take a bath while the orchestra played.
The garden is featured by an italian style with fountains, ancient trees and hedges, located to create asian shapes.
A mix of styles to fall in love with!
Top image: The Chinese Palace; Source: Wikipedia; Credits to: Esculapio