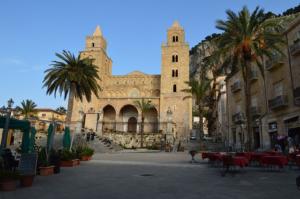 Among all the beautiful places to see in Sicily, you can find of course Cefalu, a small town in the northen coast of the island, 50 minutes away by car from Palermo. Thanks to its beauties, Cefalu is one of the most visited town in Sicily and in 2015 it was listed in UNESCO World Heritage inside the "Arab-Norman itinerary". Also for this reason, Cefalu is invaded by many tourists who rent a villa in Sicily with sea view to visit this enchanting town.
Cefalu overlooks the Tyrrhenian Sea and is surrounded by the Madonie mountain: the perfect mix to enjoy both wonderful sicilian beaches and clean air of the mountains. In the middle, the symbol of Cefalu: the Duomo, or rather the main Church of the town, a monument part of UNESCO World Heritage.
Built during the XII century, king Ruggero II gave birth to the Duomo as a gift to God to thank him for having saved him from a storm at sea. The building has two towers, realized by two different styles, one to symbolize the church power and the other one the kingdom power. In fact, the structure is more similar to a fortress, as much as the historians though that the primary project was to build a defensive structure, and not a Church. An other interesting architectural element is the front porch, built after two hundred years and where you can find also Porta Regum, the entrance door in which is possible to admire some wonderful paintings on the sides.
The cathedral is structured by a Latin Cross plan and it contains some masterpieces dating back to the Middle Age, for example in the presbyter where a wonderful Pantocrathor Christ made by a byzantine mosaic appears to the visitors' view.
The Cefalu Duomo is a monument you can't miss to visit if you are in Palermo and surroundings! During summer, you can visit it all days from 8,30am to 6,30pm; instead, during other seasons the cathedral is open to the public from monday to saturday from 8,30am to 1,30pm.