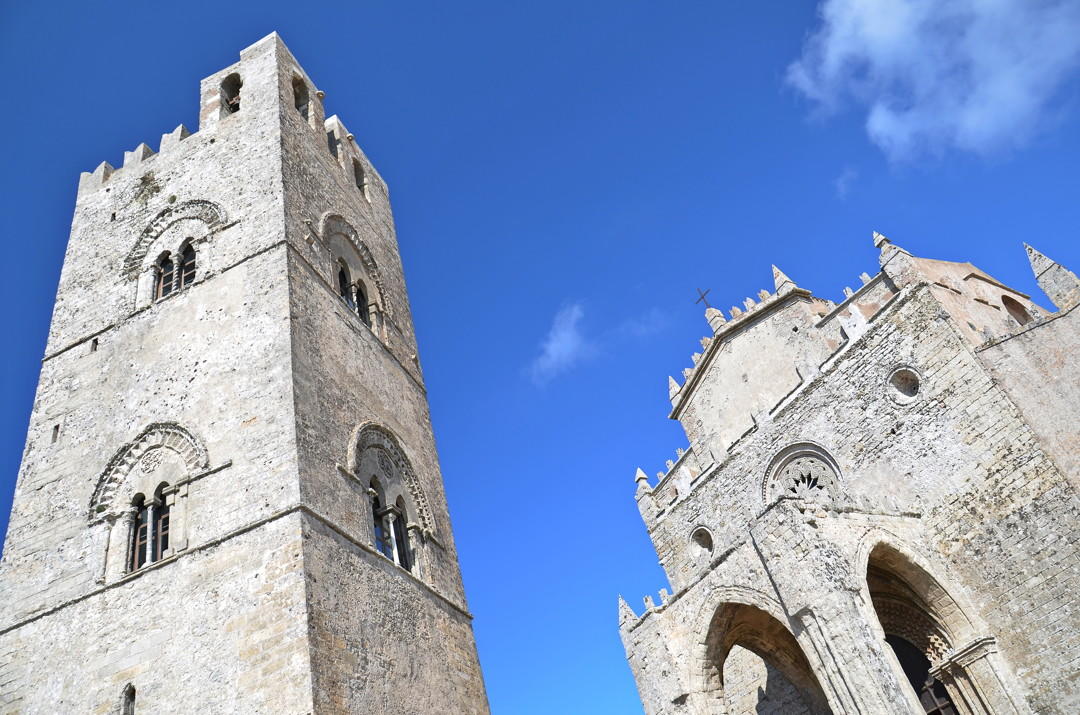 This experience is available exclusively for the guests of Scent Of Sicily. Browse all the villas in our catalogue where this experience is available.
Description
Erice, on top of a mountain overlooking the whole Western shore from the city of Trapani (just 15 minutes away) to the shores of Marsala (South) and San Vito Lo Capo (East). The hamlet can be reached via car or bus, but if you're looking for a more thrilling experience we recommend you take the cableway from the city of Trapani: the panorama will make your jaw drop!
This town is rich in history and legend: its name comes from "Erix", a mythological character, the son of Aphrodite, killed by Heracles. After the foundation, the town was occupied by the Romans and the Arabs, as well as the Normans. Nowadays, Erice is a beautiful medieval hamlet: the best thing to do to catch its dreamy atmosphere is to walk through its narrow streets filled with antique shops and pretty cafés, ending in pleasant courtyards with flowery balconies and stunning monuments. Panoramic viewpoints are almost everywhere: if you're lucky enough to visit Erice when the sky is very clear, you'll be able to see the islands of Ustica and Pantelleria, if not even Cape Bon in Tunisia. Two stunning castles can be visited: one, founded by the Normans upon the ruins of a former Roman temple dedicated to "Venere Ericina" (Venus), and one built during the Middle Ages. Interesting monuments and sights include the gardens of the castle, the Dome of the Assunta, the Spanish district and plenty of religious monuments (Erice was once called "Town of 100 churches").
The hamlet is perfect for a visit both in summer, when the chilly breeze will bring some relief from the high temperatures of the coastal plain, and in winter, when the atmosphere gets a bit foggy and you'll feel you're being taken back to the Middle Ages. During your excursions, don't forget to indulge yourself with a delicious local treat: "Genovesi alla crema", pastry with custard and icing sugar, best tasted warm!